Success story: LikeFolio
LikeFolio uses Twitter data to gain unique financial insights for investors

Utilized Twitter data to conduct targeted trend and company research to help spot potential short-term and long-term investment opportunities.
Developed products providing unique financial insights via individual stock alerts, company earnings predictions, unique financial content, and custom research reports.
Analyzed Tweets in real-time to inform investors of a perceived increase in consumer purchase intent of products for online pet retailer Chewy Inc.
Leveraged Twitter data to educate investors of increasing consumer purchasing trends and a possible long-term bullish indicator about streaming media device manufacturer Roku.​
About LikeFolio
LikeFolio analyzes social media data to identify potential shifts in consumer spending behavior before they become news on Wall Street. They support a diverse client base of individual investors, hedge funds, quant funds, and brokerages including TD Ameritrade.
In 2013, brothers Andy and Landon Swan discovered a potential financial opportunity: consumers actively discuss brands and products on social media, even showing when making a purchase. What if someone (or some company) could aggregate ALL of these product mentions under a publicly traded company's umbrella and monitor volume over time? Could this be the social media equivalent of customer data and focus group research combined? Absolutely. Meet: LikeFolio.
After testing multiple data sources, LikeFolio zoned in on Twitter. Why? Twitter APIs were easy to work with and the Tweet Content proved ideal for mass consumption and important insights. Initial data analysis was even better than anticipated. LikeFolio concluded: The analysis of Twitter data could help inform investors early of shifts in consumer behavior that could be a factor in guiding investment decisions.
A Georgetown University Study echoed these findings: "Third-party-generated product information on Twitter, once aggregated at the firm level (by LikeFolio), can be predictive of both upcoming sales and the unexpected component of sales growth at the firm level."
The next question: How could LikeFolio empower investors to use predictive social insights to help identify consumer demand trends and potential trading and investment ideas?
Using data generated from the public conversation on Twitter, LikeFolio refined proprietary "signals" to help investors understand shifts in consumer demand and happiness for brands and products owned by publicly traded companies.
By using a combination of Twitter's Full-Archive Search and PowerTrack APIs, LikeFolio gathered comprehensive historical data and scored Tweets in real-time. This meant investors no longer had to wait for results to understand which companies' products were generating more or less demand through the consumer conversation on Twitter.
LikeFolio realized that this real-time view into the motivations of consumer behavior was extremely valuable to investors. Their customers, such as TD Ameritrade, began to use LikeFolio's services to provide insights into consumer behavior to their clientele through compelling content and powerful research platform integrations.

"LikeFolio's unique consumer insights allow TD Ameritrade to provide our clients with relevant market content and technologies that they can't get anywhere else," said Steve Quirk, Executive Vice President, Trading and Education, at TD Ameritrade.
This unique edge enabled LikeFolio to shed light on a rapidly developing opportunity for investors. Let's take a look at two specific examples of this use case with Chewy Inc. (NYSE: CHWY) and Roku Inc. (NASDAQ: ROKU).
"Twitter data has enabled LikeFolio to deliver incredible insights at a frequency and consistency that no one would have thought possible. We're essentially creating a consumer poll of every brand and product in real-time, 24/7.
As COVID-19 shutdowns took hold in March of 2020, mentions of dog and cat adoptions, as calculated by LikeFolio, were surging by over 68% in just one month: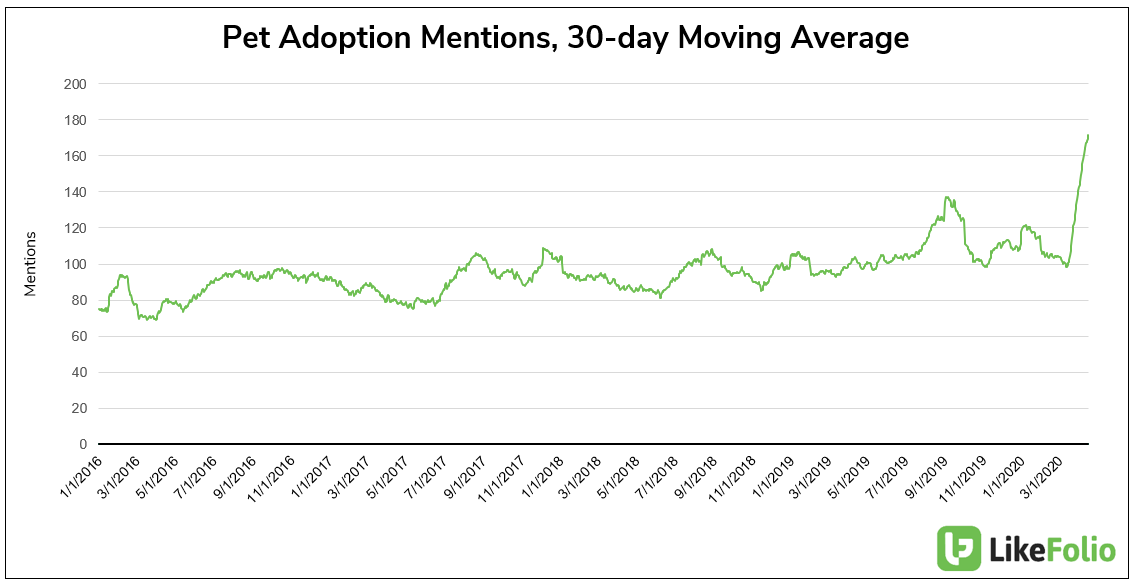 Qualitative analysis from LikeFolio revealed two compelling insights:
An increase in household pets meant that consumers were buying more pet supplies.
Consumers were also likely to value home delivery of these pet supplies.
Chewy, an e-commerce pet supply company, surfaced as a stock to monitor. As Chewy's stock sold off with the broader market to under $23/share, LikeFolio's proprietary data was showing a massive increase in consumer spending with Chewy: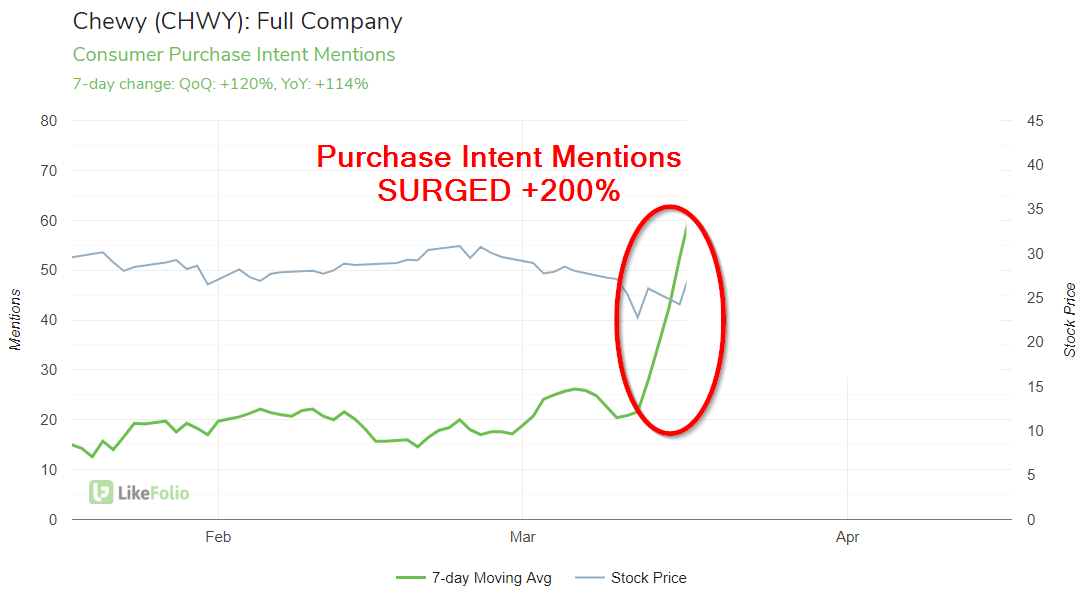 With data derived from consumer conversation on Twitter, LikeFolio clients were made aware of a potential trade idea through LikeFolio's insights:
Demand for Chewy services/products were at all-time highs.
Consumer happiness for the service provider was extremely high, averaging 85% positive in mid-March. As a comparison, the consumer happiness level registered by LikeFolio for Amazon Prime was 75% positive for the comparable period.
At the time of LikeFolio's analysis, Chewy's stock had sold off to nearly all-time lows. One month later, Chewy's stock doubled. While there are a number of reasons this may have happened, LikeFolio's analytics clearly showed a divergence between Chewy's stock price and the demand for their products, presenting a potential buying signal.

The public conversation on Twitter analyzed by LikeFolio revealed a rapid uptick in consumer demand for Chewy. This data can also be used to spot longer-term divergence: when a company's market value is at odds with consumer behavior.
Another great example of LikeFolio leveraging Twitter data is with Roku in 2019. LikeFolio tracked Purchase Intent mentions, which was gaining momentum, however Roku's stock was shedding value. The chart below shows the divergence in consumer demand (as calculated by LikeFolio) for Roku products and services in green alongside the stock price in grey.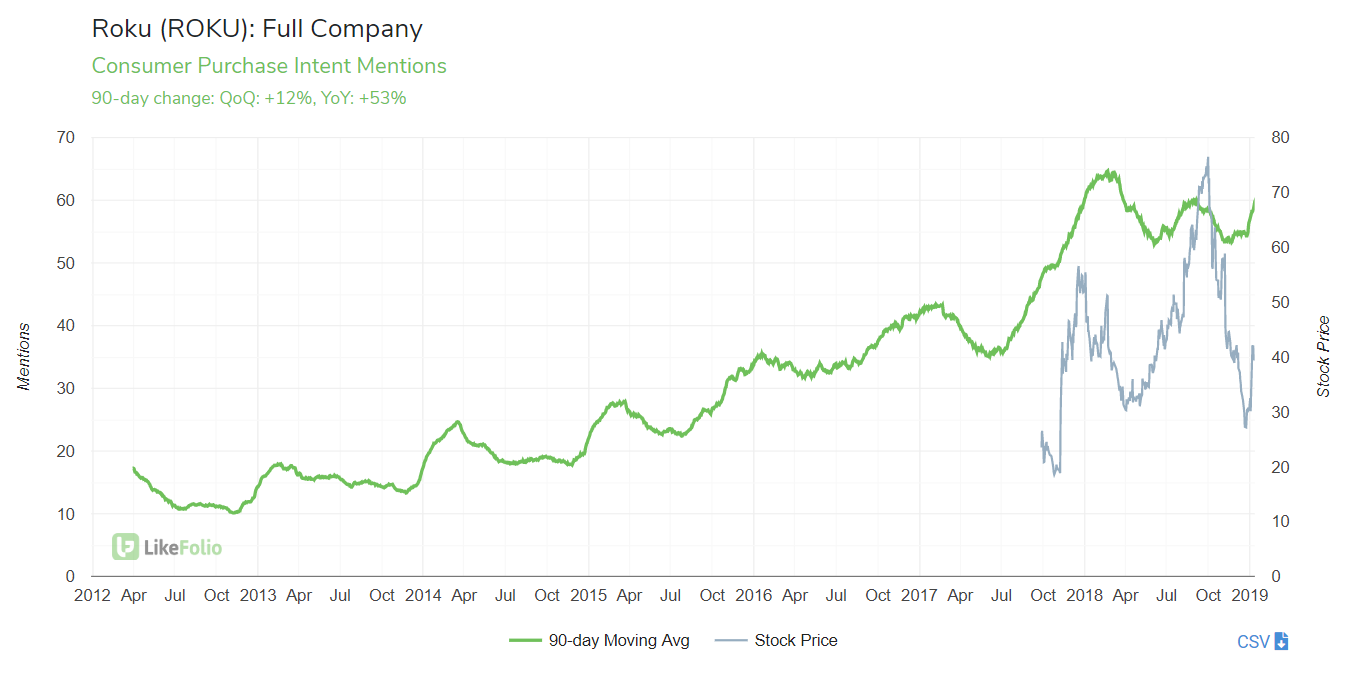 Custom mentions research by LikeFolio showed Roku was growing at a much faster pace than its peers. Macro analysis by LikeFolio also revealed more consumers were cutting the cord than ever.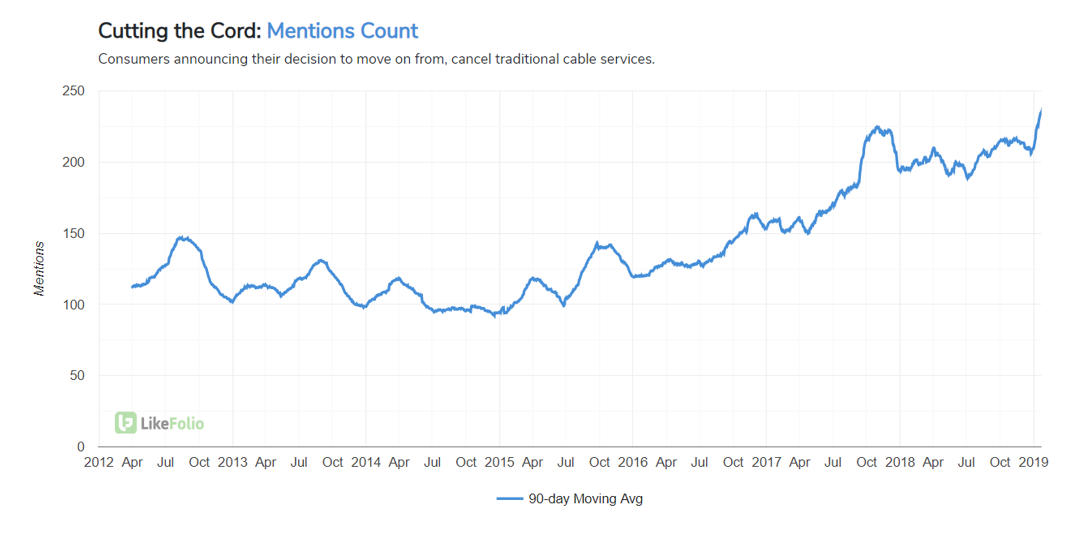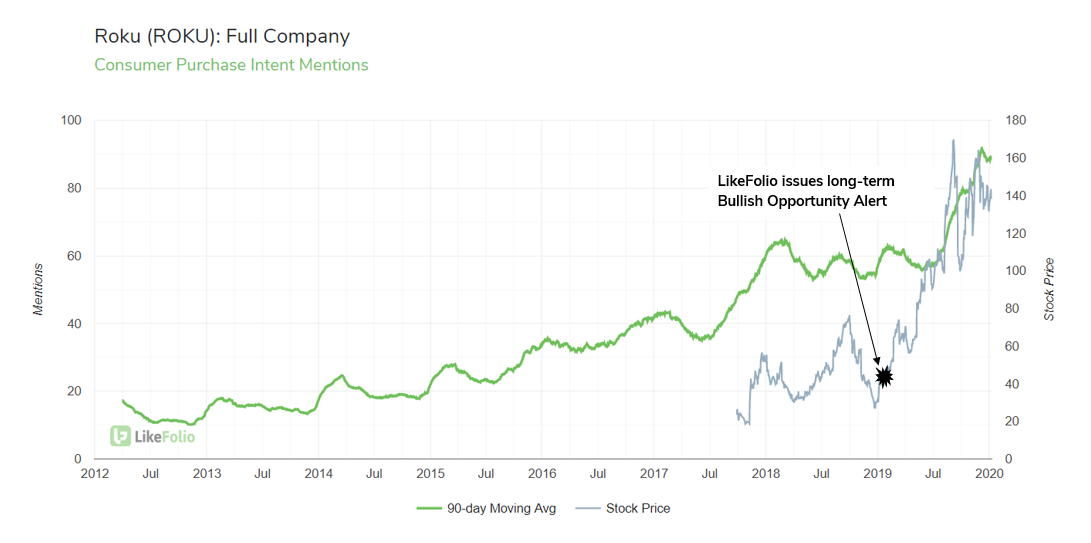 Fast forward one year, the stock price of Roku gained more than 240%.  While there may be various reasons for the dramatic surge, one potential insight identified by LikeFolio's buy alert was the continuing and increasing consumer dissatisfaction with traditional cable and increasing purchase interest in Roku products highlighting how LikeFolio's analytics can be a factor to help inform investment decisions.
"Twitter data has enabled LikeFolio to deliver incredible insights at a frequency and consistency that no one would have thought possible. We're essentially creating a consumer poll of every brand and product in real-time, 24/7," said LikeFolio Co-founder Andy Swan.
LikeFolio's application of Twitter data to the finance community shows that, similar to a picture, a Tweet too can be worth 1,000 words.
All of the companies identified above, including TD Ameritrade®, LikeFolio and Twitter, are each separate, unaffiliated companies and are not responsible for each other's products, services or policies.
Want to learn more?
Get more insights from LikeFolio