Success story: Citibeats
Using the Twitter API to drive social good

Citibeats is a social data platform that helps private and public organizations understand in real-time what matters to people at scale, guiding decision makers to take timely and necessary actions.

Citibeats' platform has identified cases of how artificial intelligence has been able to report on important issues faster than the media - and also increases the coverage of surveys exponentially at a fraction of the cost. This helps organizations manage emerging risks and get early warnings on issues that require a quicker response.

Citibeats has created data observatories in exceptional situations to help identify critical social needs in local cases, like in Japan after the 2019 floods and in Latin American countries during the global COVID-19 pandemic.

Citibeats has been recognized internationally with prestigious awards such as the United Nations World Summit Awards and COGx for the best Artificial Intelligence for public services.
When the COVID-19 global pandemic started in March 2020, the Inter-American Development Bank sought to understand people's needs quickly in order to inform their ongoing and varied communication, emergency response, policy and investment decisions. They made the aggregated data publicly available at bidciviclytics.citibeats.com in order to provide a public resource that governments, companies, organizations and startups across the region could use to generate solutions to the crisis.
To respond during the crisis, it was essential to have a system put into action quickly, as well as be able to understand the diversity of languages and local references used to explain the varied social needs resulting from the pandemic.
Citibeats' social data platform, based on proprietary natural language processing technology and machine learning algorithms, makes it possible to unlock the analysis of big data about human behavior and turn it into actionable insights - regardless of the language, data source, or structure of the text. The technology in some cases can yield results more than 30 days earlier than traditional methods - like media, polls or surveys - which can help organizations manage emerging risks and detect early warnings on critical issues.
"We rely on data from Twitter's enterprise APIs to give us the full picture of what is going on, so we can surface the most actionable information," said Harry Wilson, Chief Product Officer at Citibeats. "Thanks to the powerful endpoints available with Twitter enterprise data access, we're able to make more specific queries, meaning more specific data that can be acted on."
While the pandemic was reaching Latin America, Citibeats and the IDB Group launched CivicLytics, a citizen observatory for all of Latin America and the Caribbean. The goal of CivicLytics was to discover people's real-time experiences of the crisis and surface the top issues facing concerned citizens in each country. These issues ranged from response to  crisis measures, to food insecurity concerns and trust in the healthcare system. Citizens were encouraged to share their voice through different channels, particularly through public conversations on Twitter.
With the possibility to turn on this system, spanning 26 countries and multiple languages including Spanish, Portuguese, English, Dutch, and Haitian, this was a fast and effective way to gain an understanding of a huge social disruption at scale.
With real-time access to millions of Tweets from the public conversation on Twitter, we are able to contrast and refine findings from surveys and macro-economic analysis. By doing so, we are closer to the people and better contributing to improving lives in Latin America and the Caribbean.
In the first two months after CivicLytics launch, 10 million Tweets were analyzed using Twitter enterprise APIs,  PowerTrack and 30-Day Search, uncovering insights like the following:
Reporting famine risks in Venezuela and Colombia 11 days before the media.
Detecting how reports of lack of running water in important cities in Central American countries were leading to hygiene risks. Since the beginning of the pandemic, multiple reports about the lack of running water have been detected in realtime in different neighborhoods in the region's most important cities. This situation makes hygiene and well-being difficult during quarantine.
Discovering specific questions Ecuadorian citizens were having as the relaxation of measures caused confusion on certain topics. The below chart shows the absolute evolution of comments about hygiene protocol in Ecuador.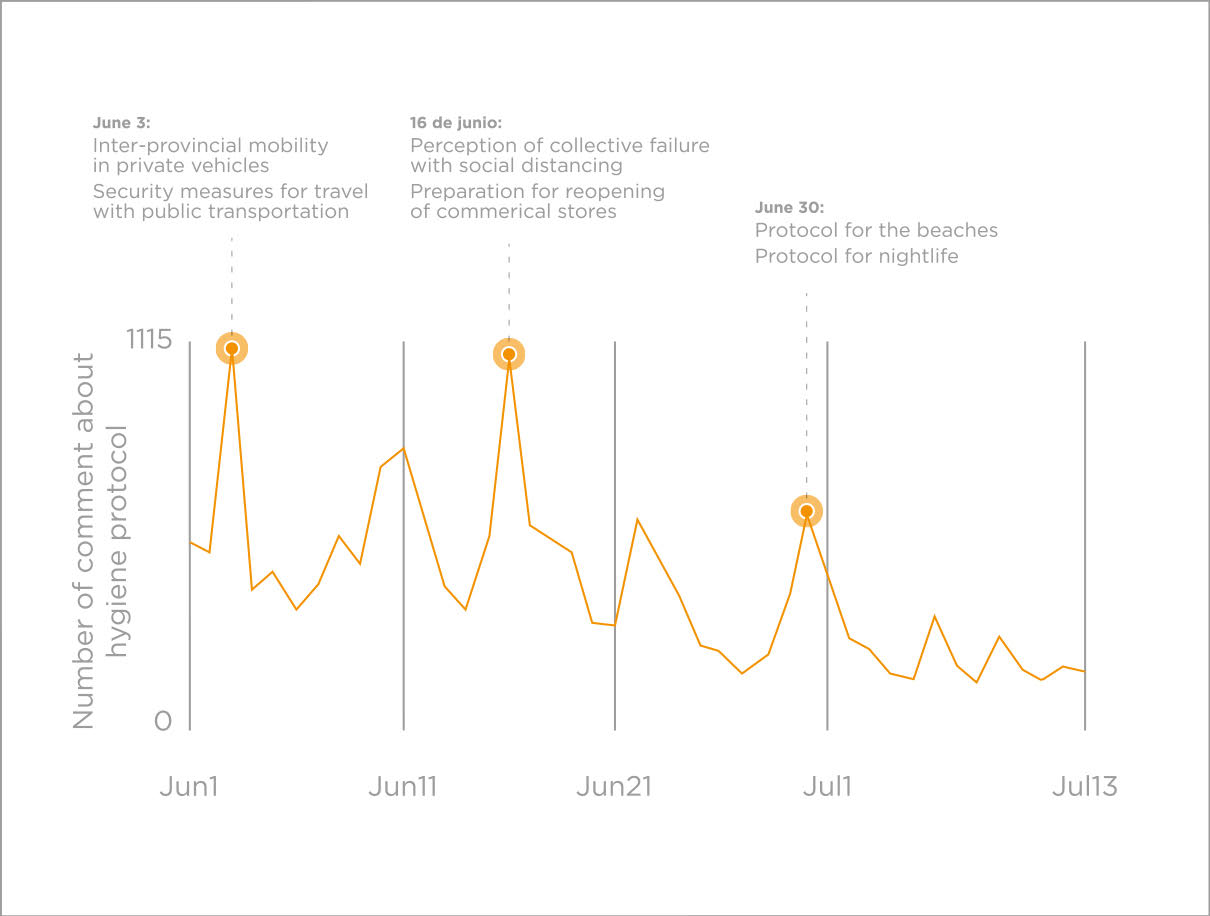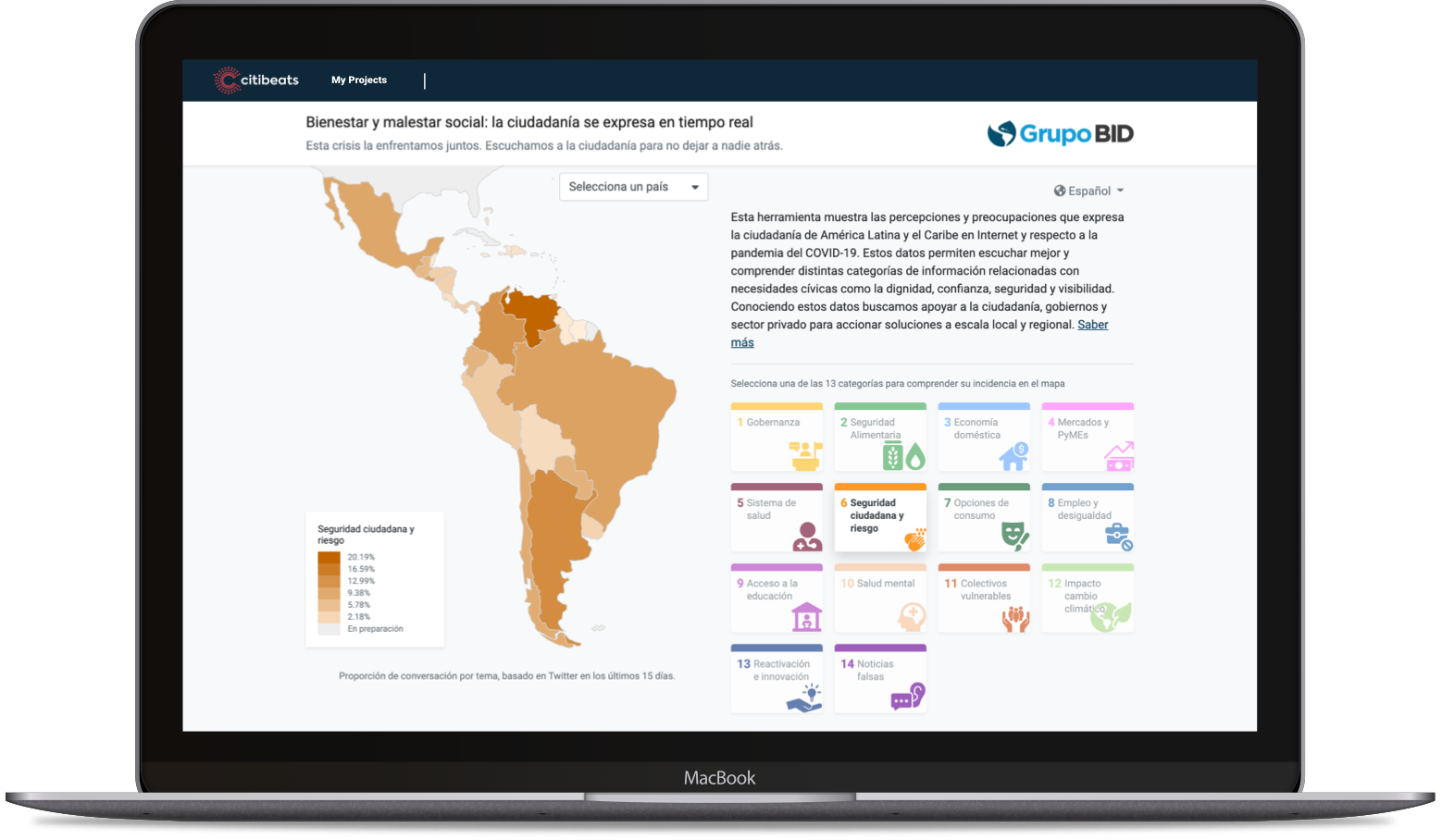 Citibeats is on an ambitious mission with a future vision in which the needs of citizens are taken into account in order to make the best decisions. We are going to reach this through Ethical Artificial Intelligence, a tool that will positively impact millions of lives. We are doers committed to a better society.
Ready to learn more?
See how you can put Twitter data to work for your company.