Exploring #ExtremeWeather: The Texas Freeze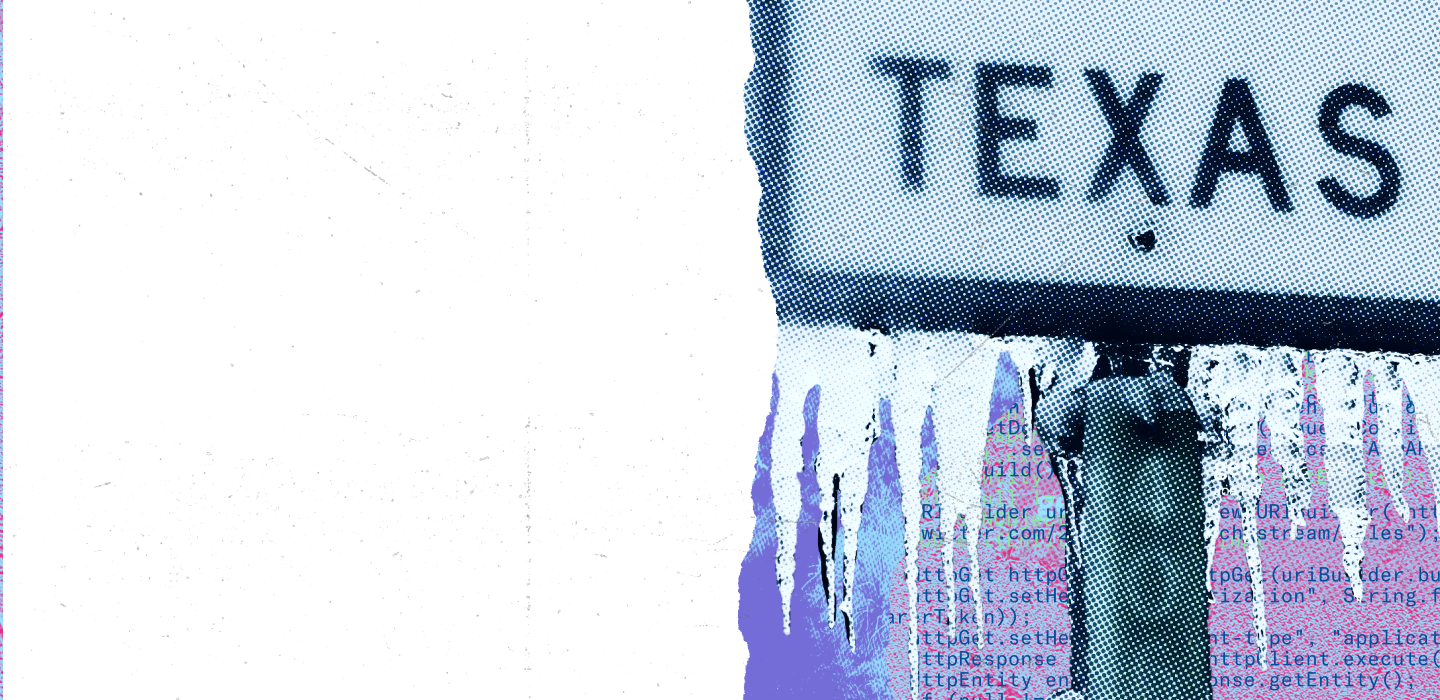 The Texas Freeze, also known as the Texas power crisis, lasted for a two week and three day period from February 10 to 27th, 2021 when three winter storms, including a polar vortex, caused a massive electrical failure in Texas due to rare freezing temperatures. 
"In real-time and the days that followed, people quickly turned to Twitter to participate in conversations of all kinds—they shared their experiences, emotions, fears, and asked for help as events unfolded," said Andrew Caravella, VP of Global Partnerships at Sprout Social. The power crisis led to major shortages in food, water, and heat leaving millions without power. Communities experienced burst pipes and water treatment failures, with an estimation of 700 lives lost (Utility Dive, 2021). 
Let's take a closer look at what was happening as the conversation around the #TexasFreeze unfolded on Twitter using insights provided by Twitter Official Partner, Sprout Social.
Looking at the Texas Freeze
To explore this artwork, hover over this image and scroll through with your mouse. Or, click on the buttons at the bottom of the image, which lets you use your keyboard's tab key to navigate. This is best viewed on a computer.
Digging deeper into what happened According to Andrew Caravella, VP of Global Partnerships at Sprout Social, " The conversation around #TexasFreeze, #TexasSnow and #TexasPowerOutages included more than 186,000 Tweets, which received over 625,000 engagements and had a total reach of more than 825 million impressions, proving the power of Twitter to not only engage locally but drive awareness and create connection globally."
In addition to analyzing trends in these Twitter discussions, Design I/O used the Messages feature in Sprout Social's Listening tool to find and surface defining moments before, during, and after the #TexasFreeze, including people setting up camping gear and tents in their house, cooking food with camping stoves, rescuing cold stunned sea turtles from Galveston Bay and using melted snow to flush their toilets.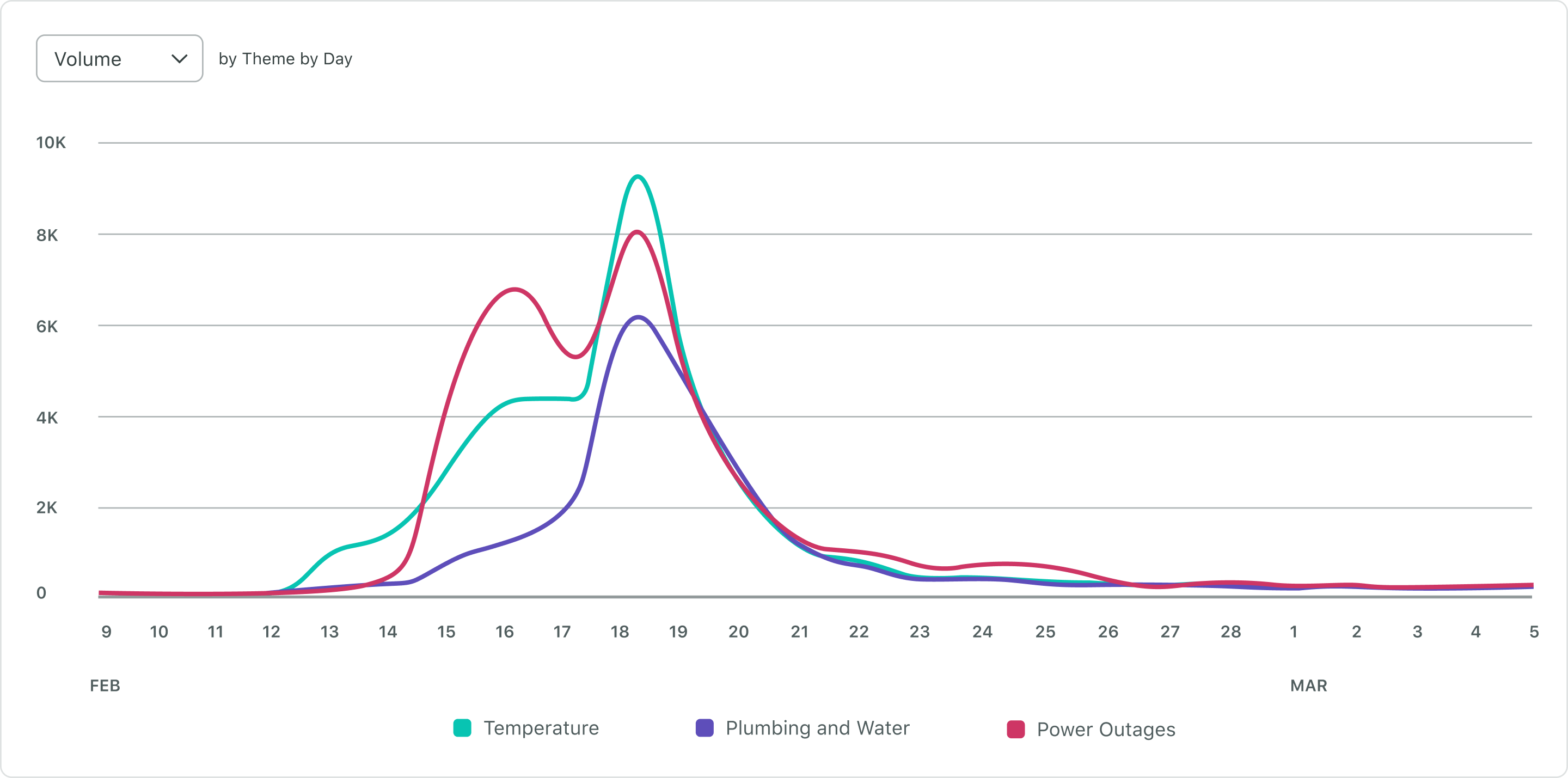 After uncovering interesting stories using Sprout Listening, Design I/O built Topic Themes like "Infrastructure," "Weather/Climate," and "Support" to dive deeper into the Twitter discussion and how it changed over time.  For example, conversations about drops in temperature spiked at approximately the same rate as those about electricity and power outages. As the lack of electricity and heat led to plumbing failures and the loss of running water, those conversations then increased a couple of days later. Design I/O also used Sprout Social's sentiment tracking feature to get a different perspective on the conversation. Through features like the Word Cloud, they were able to view the top emojis used by day, which closely tracked key moments of the #TexasFreeze. For example, when people began rescuing cold stunned sea turtles from the Texas Coast, we saw the turtle emoji
become one of the most used.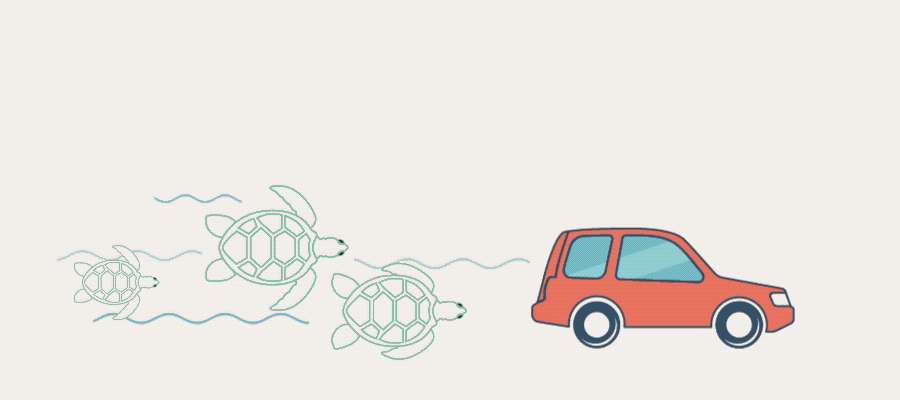 Twitter is a powerful way to communicate during natural disasters and extreme weather events in order to get critical information out fast to first responders and people in the affected area. The #TexasFreeze and the damage it caused shined a light on the need for greater emergency preparedness, especially as we continue to confront global climate change (Time, Feb 2021). How might we combine this growing conversation with calls to action that can influence change? 
By understanding what happened during a past event, communities and governments can better understand how events unfolded and how to prepare and react more effectively in the future. Sprout Social's Listening tool provides a valuable way to understand these events through both a comprehensive, quantitative view for big picture analysis and a more qualitative view of human stories and powerful moments. Explore other #ExtremeWeather events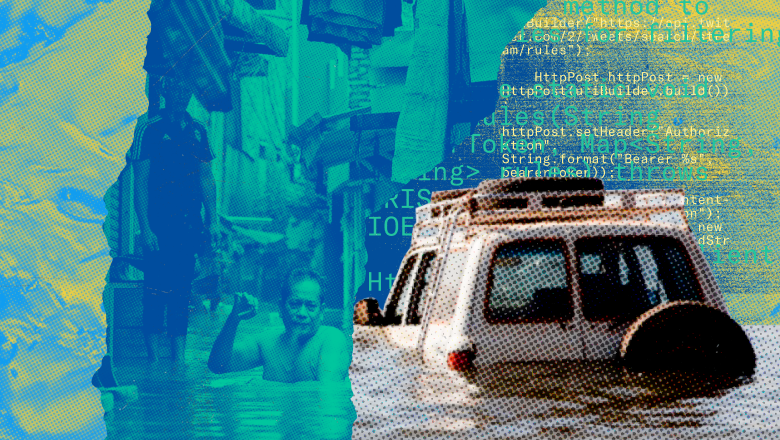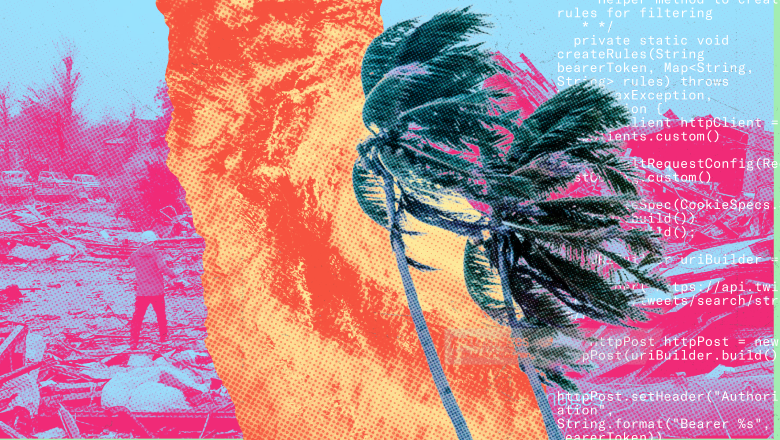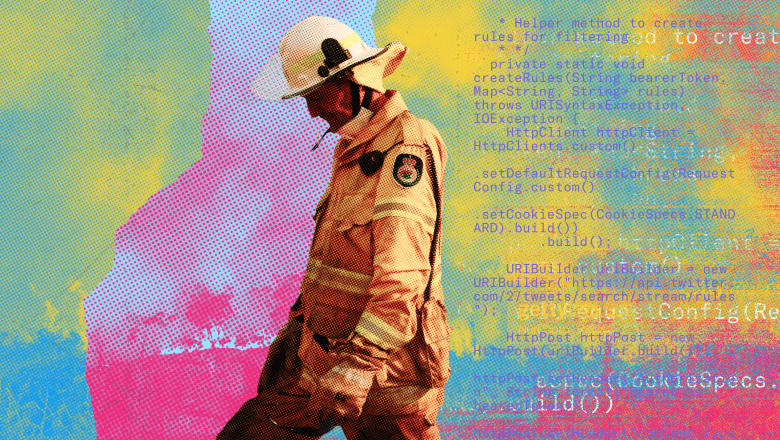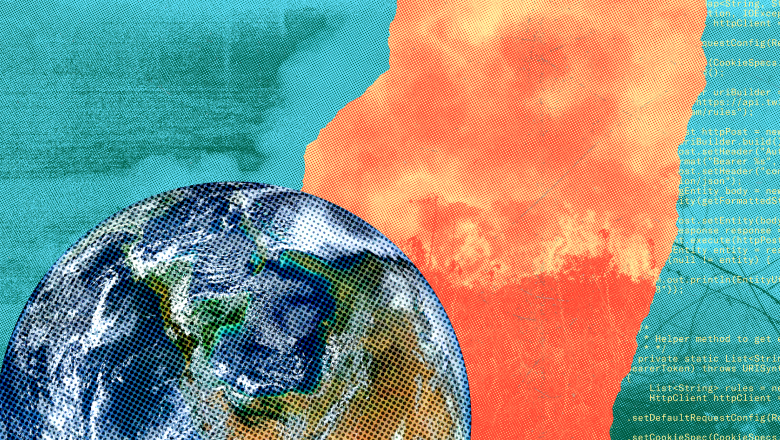 Data insights provided by Sprout Social
Twitter Official Partner Sprout Social offers deep social media listening and analytics, social management, customer care, commerce, and advocacy solutions to more than 25,000 brands and agencies worldwide. Sprout's unified platform integrates the power of social throughout every aspect of a business and enables social leaders at every level to extract valuable data and insights that drive their business forward. 
Artwork provided by Design I/O
2020 National Design Award winner for Digital Design, Design I/O is a creative studio specializing in the design and development of cutting-edge, immersive, interactive installations, experimental data visualizations and new forms of storytelling. To learn more, head to Design I/O.