Exploring #ExtremeWeather on Twitter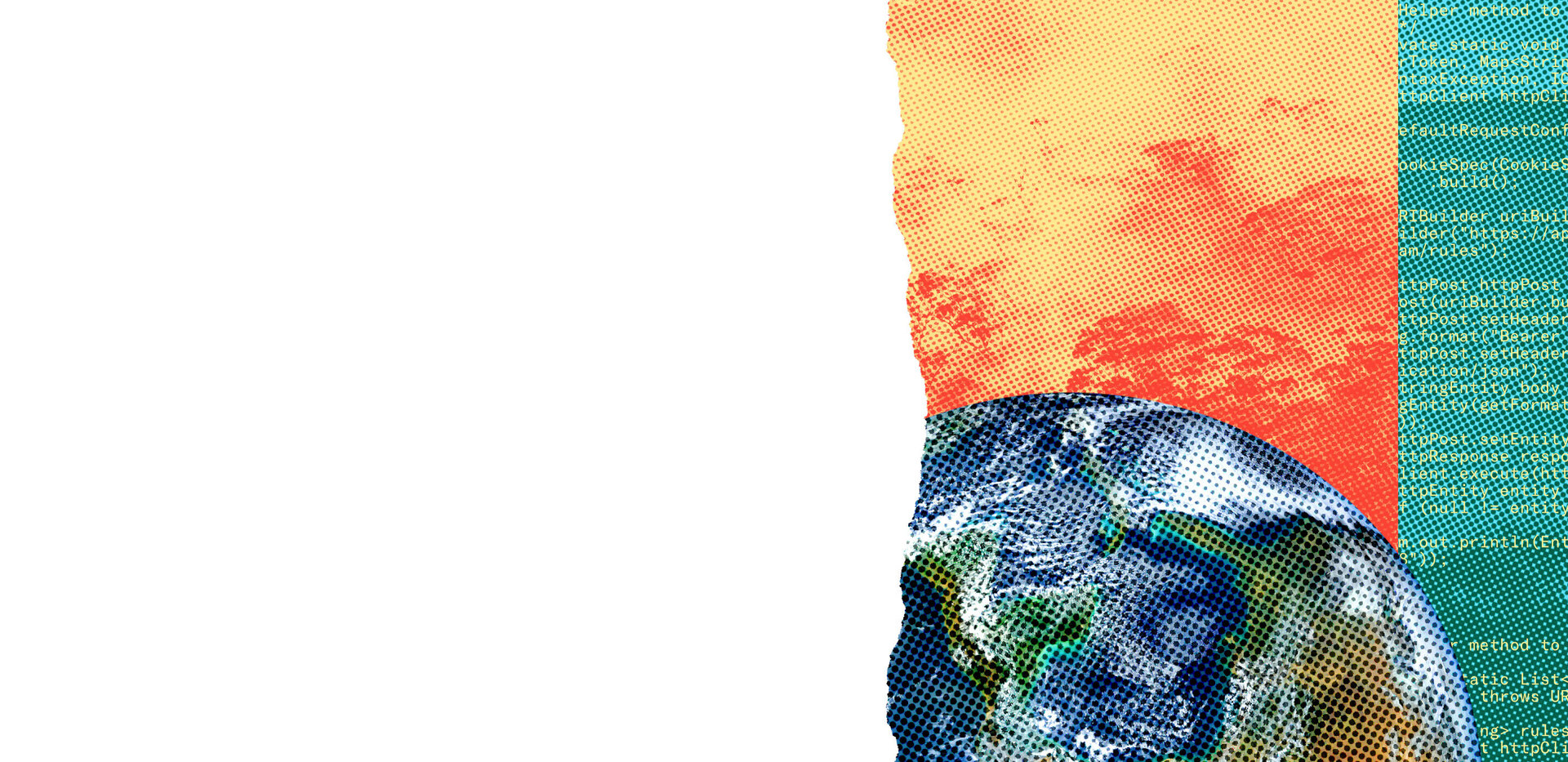 Climate change is shaping weather around the world, fueling an increased number of unusual and extreme weather events. Over the years, this has played out on Twitter with increased conversations between people coming to talk about what they have seen happening.
Let's take a closer look at what was happening as #ExtremeWeather unfolded across the globe and in conversations before, during, and after such events.

Unpacking global conversations on extreme weather
To explore this artwork, hover over this image and scroll through with your mouse. Or, click on the buttons at the bottom of the image, which lets you use your keyboard's tab key to navigate. This is best viewed on a computer.
In a major report by the Intergovernmental Panel on Climate Change (IPCC), the United Nations' climate science research group concludes that we are already seeing the impacts of "widespread and rapid changes" in every inhabited region across the globe.
The increased frequency and magnitude of extreme weather events is amplified in public conversation, too. In a sample of English Tweets from 2013-2020, mentions of "climate change" grew an average of 50%.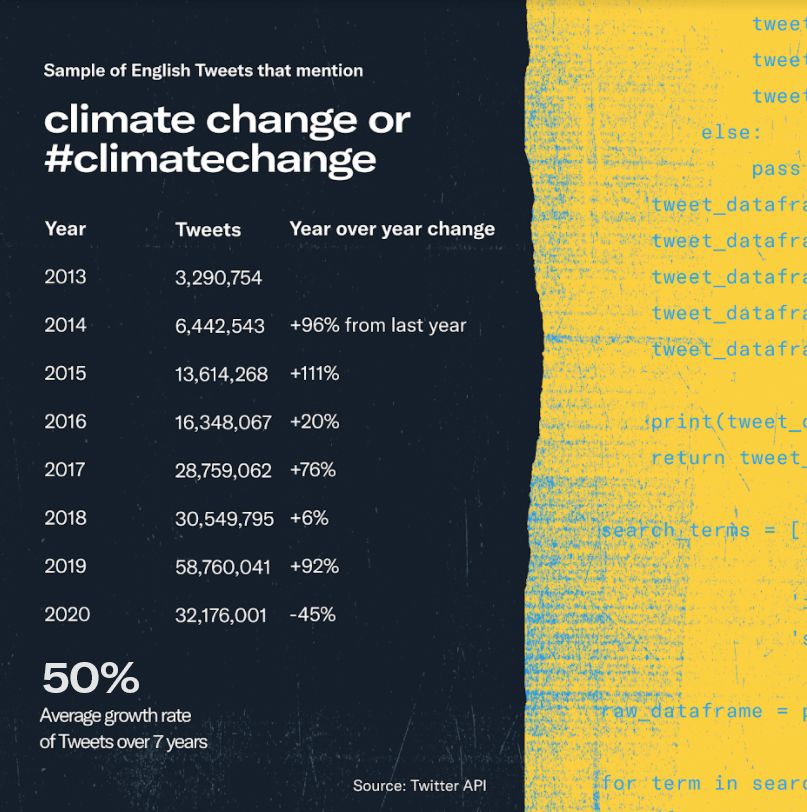 Power of protest drives conversation on Twitter
While the volume of conversations on Twitter about climate change increased in recent years, does this drive an offline impact? Researchers Christopher Barrie, Tom Flemming, and Sam Rowan used the Twitter API full-archive search endpoint to determine just this. In their analysis, data shows that urgency behind the climate change conversation has only started to take shape in the last few years.  
Specifically, the word "climate" started becoming more closely tied to words like  "emergency" and "crisis" around 2019, taking off as social activists began #FridaysforFuture protests. In their piece, the researchers also explore how members of Parliament in constituencies with climate protests are more likely to Tweet about climate change immediately after the protests, than those without protests.
People normalize extreme weather, but the impacts remain
A major part of conversation about extreme weather events are the people who come to Twitter to express their grief or hope, share the latest information or guidance, and crowdsource donations or volunteers. Humans are resilient, and nothing if not adaptable. But in some cases, this might be to our own detriment.

In another research publication, scientists studied over two billion data points from Twitter to find that the average person's reference point for "normal" weather spans about two to eight years. So while the weather significantly changed over the course of their lifetimes, people grow accustomed to a "new normal." The danger in this is that people may not link climate change to these changes, and worse, may not feel pressure to act in urgent response to the climate crisis. "The main reason I like [Twitter] as a source of data is that it integrates not just a measure of typical exposure — which is 'Did the water come onto the land in a place where it wasn't supposed to be? [It also] measures 'What are people noticing? What are people talking about?' Twitter can give us this aggregated measure of what those social consequences of that particular flood are."
- Dr. Frances Moore, Assistant Professor in the Department of Environmental Science and Policy at University of California, Davis.
Explore other #ExtremeWeather events
Extreme weather events driven by climate change transcend all borders, and highlight the importance of global collective action. Dive into each of these artworks, powered by social insights and analytics using the Twitter API, to see how extreme weather over the last year have shaped public conversation across the globe.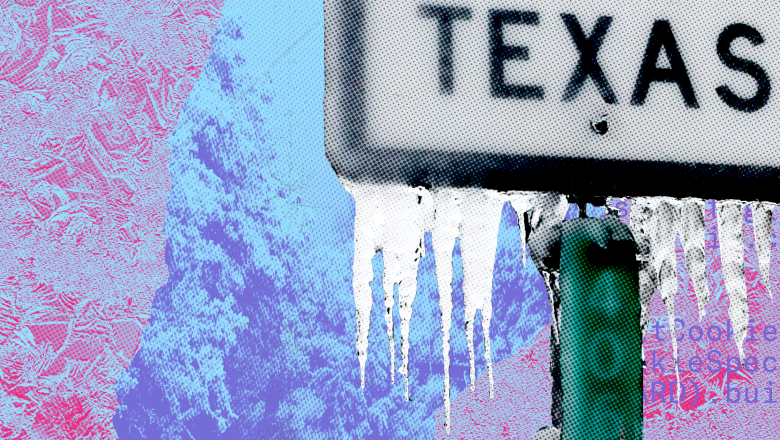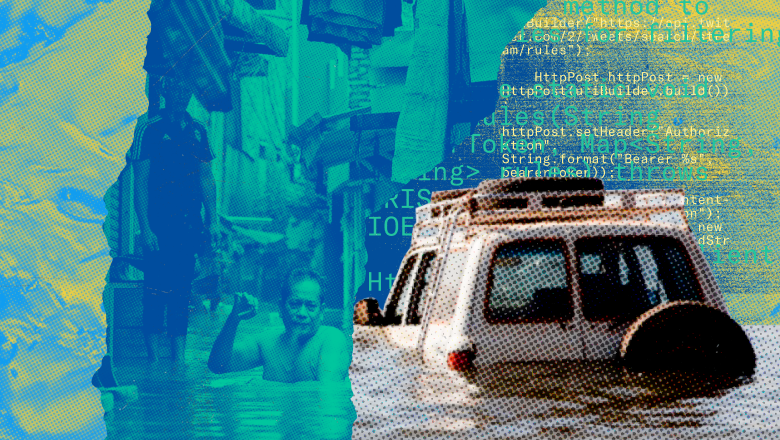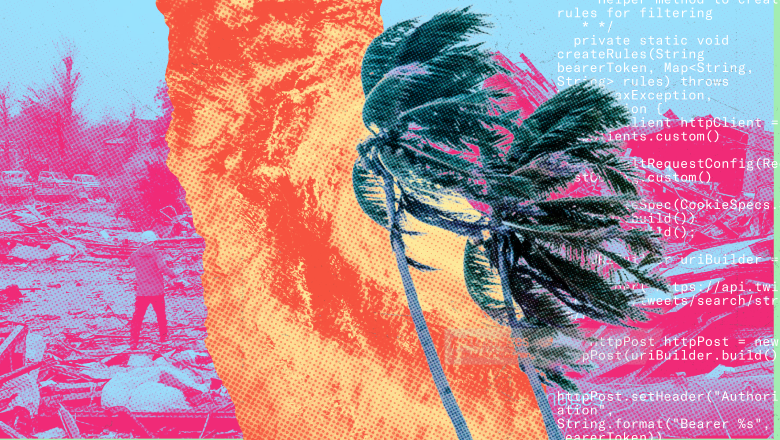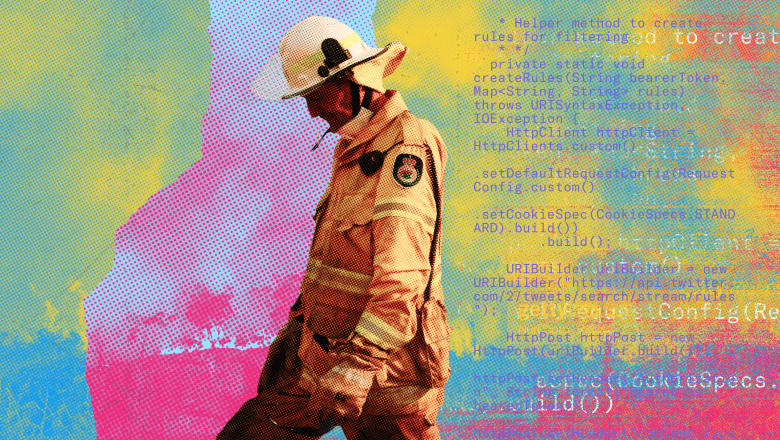 Data insights provided by our partners and developers

These artworks would not have been possible without the help of our partners and developers who seek to bring attention to and inspire other developers to help build for addressing the climate crisis. Each piece is powered by significant contributions from NTT Data, Sprout Social, Brandwatch, and Peta Bencana.
Artwork provided by Design I/O

2020 National Design Award winner for Digital Design, Design I/O is a creative studio specializing in the design and development of cutting-edge, immersive, interactive installations, experimental data visualizations and new forms of storytelling. To learn more, head to Design I/O.