Case studies / Dots
How Dots uses Twitter Ads to create massive mobile game adoption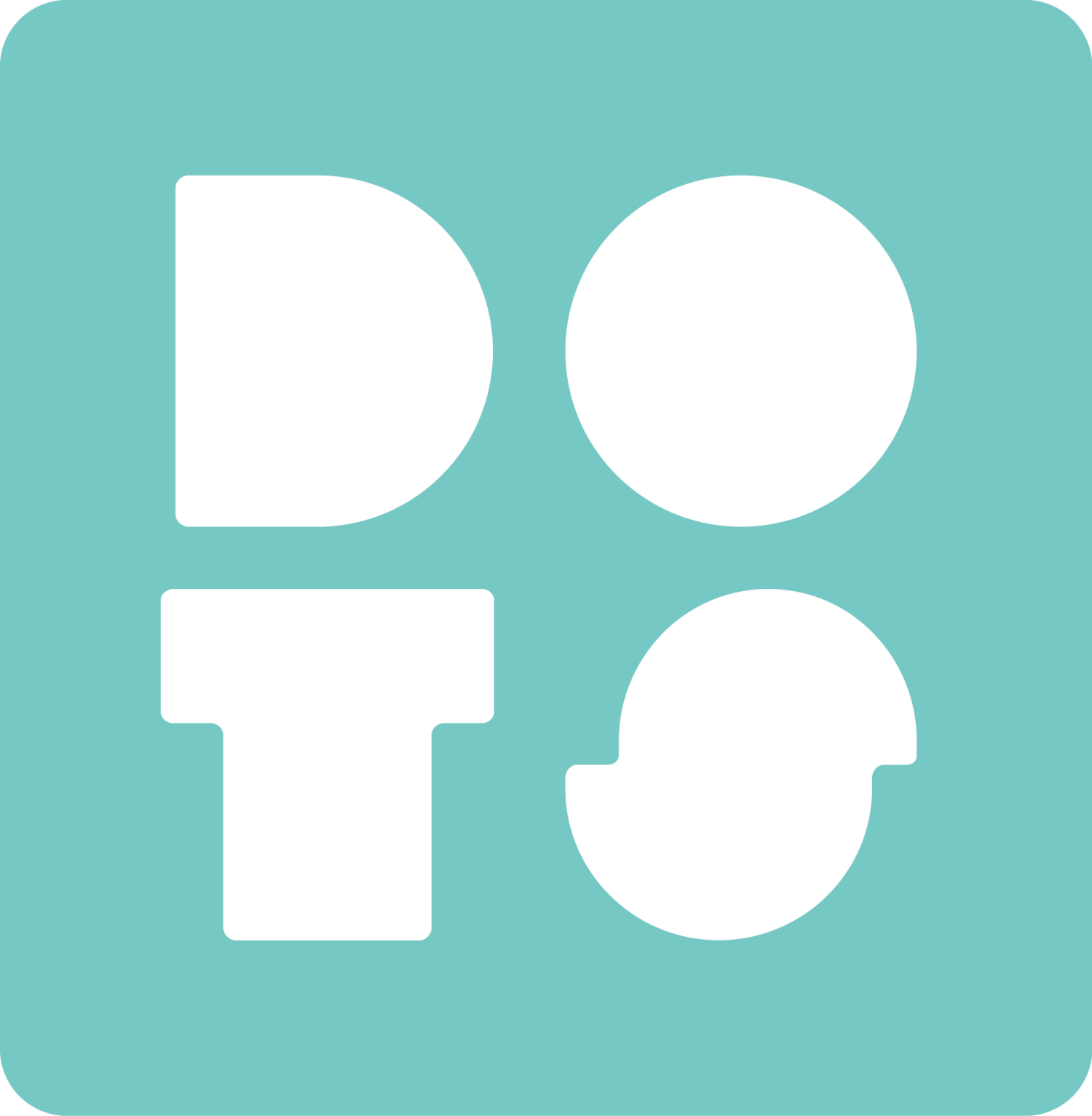 Dots is the mobile game studio behind the art-inspired puzzle games Dots and Two Dots
Two Dots is has over 30 million players and has reached #1 in over 71 countries across mobile platforms.
In 2015, Two Dots was awarded the Webby Award and People's Voice Award for Best Visual Design – Aesthetic (Mobile & Apps), as well as the Webby Award for Best Gaming App (Handheld Devices).
When Patrick Moburg (@patrickmoberg) came back from a trip to Asia, he was inspired by an idea to create an entirely new kind of mobile game. He wanted to build a unique puzzle game, thoughtfully designed. He engaged the help of friend Paul Murphy, and within a month, they'd created their first game, Dots (@playdots). One unique aspect of their game was that Dots integrated Twitter into its leaderboard system, encouraging users to tweet out their scores. As a result, the game saw large organic growth as more people started to tweet out their scores as a method of online viral competition, leading to further people to jump on the trend. With this sort of viral growth, Dots became a huge success, gaining over over 5 million players in only three months.
With the success of their first game behind them, they officially launched Dots, their mobile gaming company. Dots decided to go even bigger for its second game, Two Dots. They recognized Twitter was key to the growth of their first game, and wanted to build a powerful paid media strategy using Twitter to go even bigger. In the crowded field of mobile gaming, Dots had to figure out a cost effective advertising solution that would help them stand out.
Dots chose to use Twitter as its main channel for driving user acquisition. Due to the real-time nature of Twitter, Dots built its strategy around targeting trends and hashtags that were aligned with their key interest groups to help gain and attract new users. They found influential Twitter users who were engaged in trending topics and who received many retweets. Armed with that information, Dots targeted advertising that incorporated the trending hashtags to those power users and their followers. Twitter was the only platform that enabled them to employ this real-time advertising technique in a cost effective manner.

In a notable example, when pop singer Demi Lovato released her single, "Really Don't Care", it was trending on Twitter with the hashtag #reallydontcare. Recognizing her audience profile overlapped with people likely to play their game, Dots used this information to target advertising towards Lovato's most viral followers who had the greatest likelihood to be retweeted by their followers. The strategy paid off, and Dots drove over 25,000 installs in a single day by integrating #reallydontcare into their paid media strategy.
Dots used the App Card, a form of Twitter Ad, to drive installs from Twitter. The App Card showcases an app directly within a tweet. Users can preview an image of the app, a rating and a call to action within their home timeline and then download or open the app with a single click.
Dots strengthened its organic growth by creating virtual postcards which players could find in the game, and then share through Twitter. These postcards showcased the game's distinctive and aesthetically appealing look and feel, bringing the unique game design onto social media.
This strategy has paid off. "While we've integrated tightly with Twitter, we've been careful to do it in a playful, sharing way, not a spammy way," notes Murphy.
Dots was so committed to growing through Twitter, they began to use it as a tool to interact with players. They display tweets around the office, so they can get a feel for the common landscape of their players. They take feedback to heart and are attuned to players' reactions, likes and dislikes. All that data allows them to improve future versions of the game, since they have a good sense of what players will probably like. Twitter enables them to reach out to users across the globe and bring them into the gaming landscape.
Twitter has allowed us to spread the word that the game is out there, in a cost effective way that feels genuine to us.
Dots' mission of creating a beautiful and unique game, that stood out in the crowded mobile game category, has succeeded. By creating a paid media strategy which focused on targeting emerging trends and power users that fit with their key audiences, Two Dots exploded in popularity, with over 5 million players downloading the game only a week after it was released.
Focusing on customer service through Twitter and creating unobtrusive opportunities to share the app highlights on Twitter, has helped to make Dots and indie gaming fan favorite with an average 4.3 approval rating from over 200,000 fans.
Murphy notes, "Twitter has allowed us to spread the word that the game is out there, in a cost effective way that feels genuine to us."
Looking forward: Thanks to Twitter Kit's Unity plug-in, Dots plans on integrating more closely with Twitter components.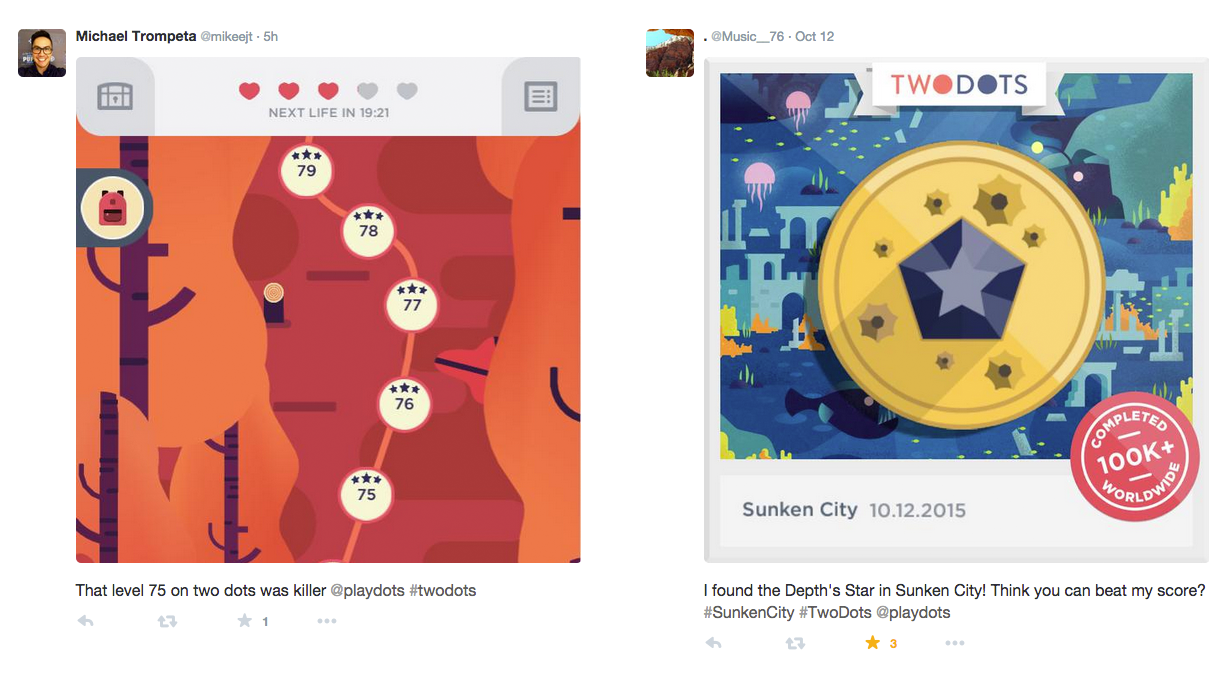 Ready to build your solution?
Review the documentation to get started.