How Social Listening helped Vodafone navigate the pandemic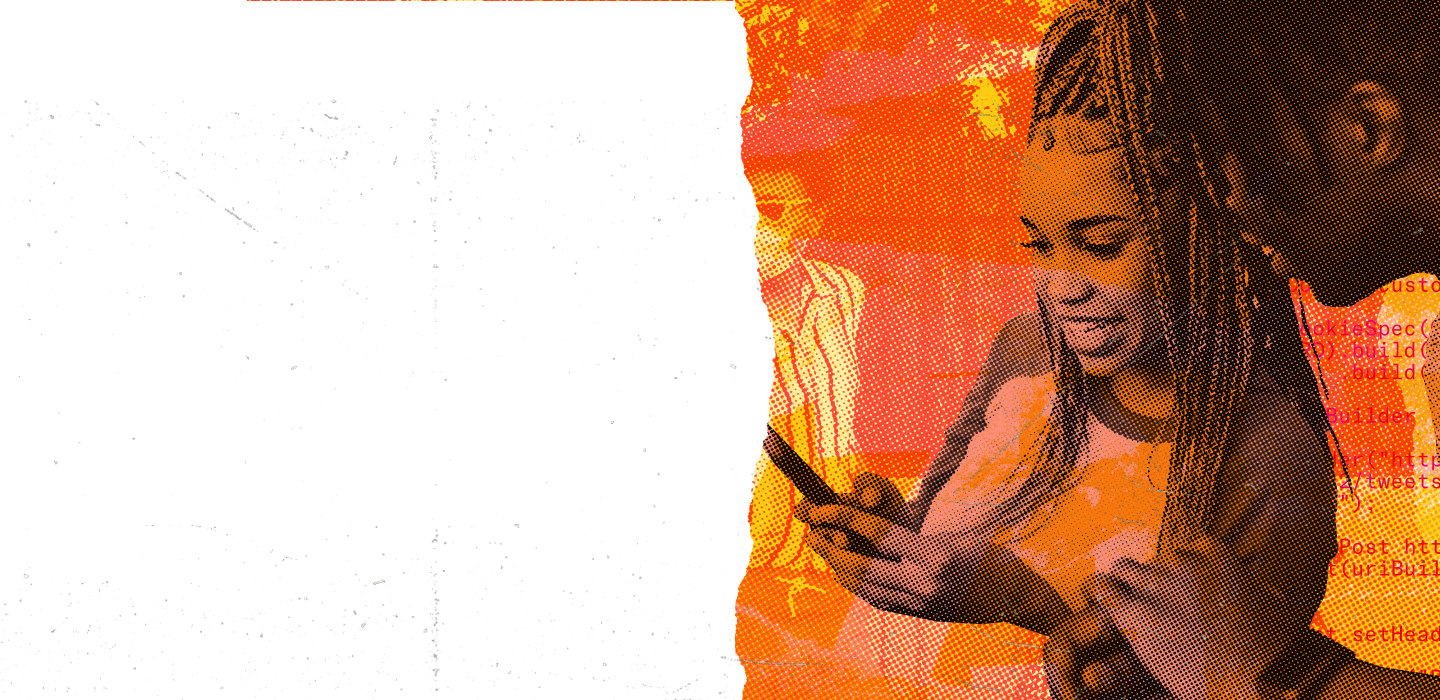 We're taking a look into how Vodafone's use of Social Listening helped inform campaigns rolled out during the pandemic. This case study highlights how social listening on platforms like Twitter helped them respond to their customer's immediate needs, and gain public favor in return.
Early on in the pandemic, Vodafone used social listening to help build campaigns that mattered, while increasing positive sentiment towards their brand. Read about it here.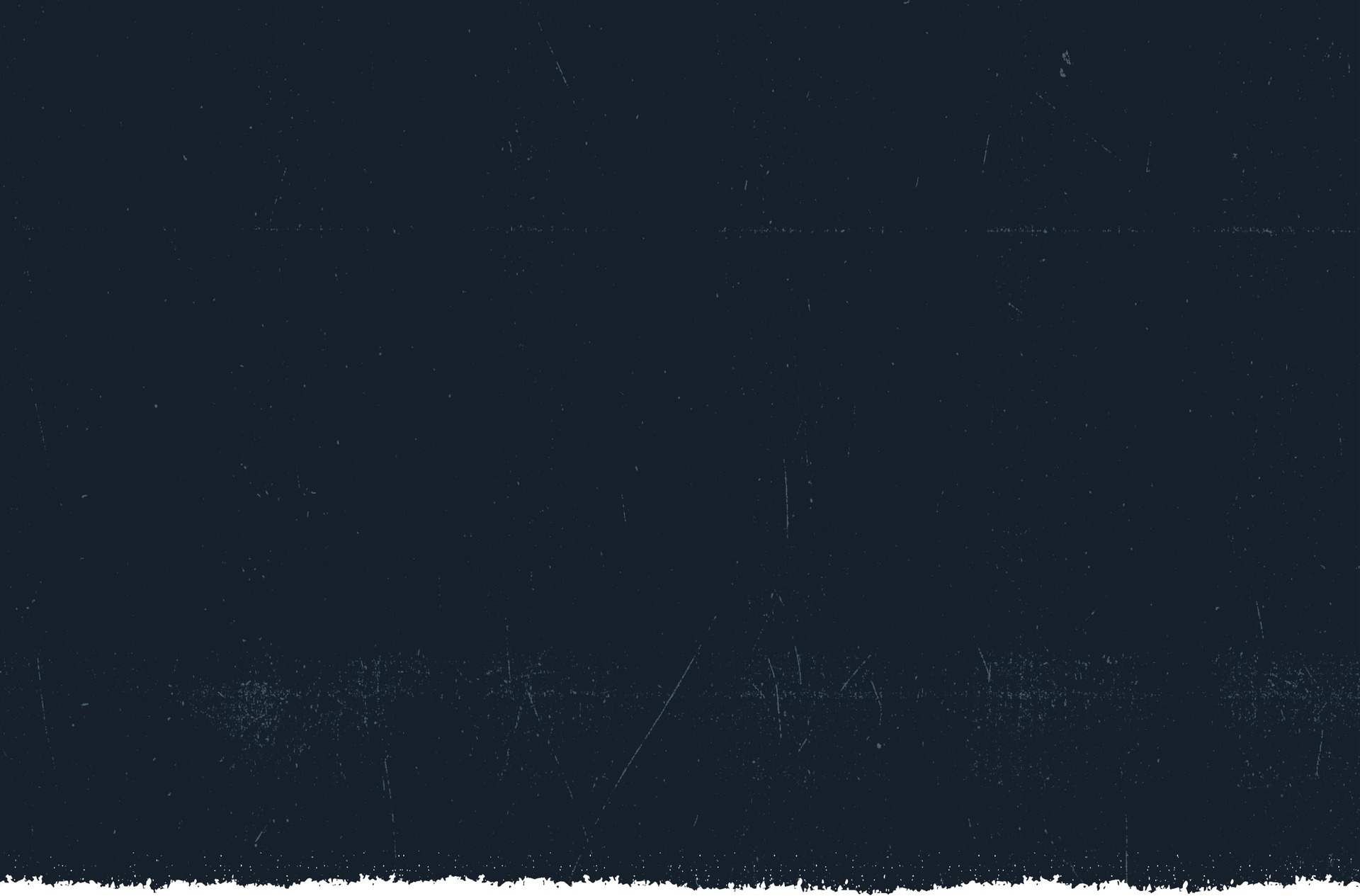 When the Coronavirus disease 2019 (COVID-19) spread across the globe and spurred a global pandemic in early 2020, Vodafone, a leading technology communications company in Europe and Africa, faced this very challenge.  With public mood at an all-time low and rapidly changing media habits, Vodafone explored ways to nimbly adapt to the changing marketing landscape.
The social media team at Vodafone understood the power of social data and knew that it was vital to understand what customers wanted from the brand and how consumers felt as the pandemic unfolded. With their data partner Brandwatch, they turned to Twitter insights. Twitter's real-time, unsolicited conversations uncovered what people needed and expected from companies at that time. The Vodafone team was able to use Twitter insights to help tailor their offerings and marketing strategy to address what people needed. 
Twitter insights revealed that topics like finances and job security dominated the public conversation. Mental health, education, healthcare and remote working enabled by fixed and mobile connections were topics that stood out. 
Vodafone was able to fully understand the UK's rapidly increasing demand and appreciation for technology as the Covid-19 crisis unfolded. They responded by shifting all of the brand's efforts into one primary purpose for 2020: to keep the UK connected during these times of adversity and uncertainty. The #KeepConnecting brand platform was launched to establish the critical role Vodafone was to play in maintaining the UK's connectivity in its hour of need. 
This was achieved through a number of meaningful brand initiatives. They offered free data to support front line NHS workers as well as care workers. Vodafone was able to help over 350,000 students in need of connectivity to get online through their schools' connected campaign. Additionally, they partnered with charities to offer free laptops and devices and launched a Voxi for Now offer for job-seeking customers in which they offered 9k discounted contracts.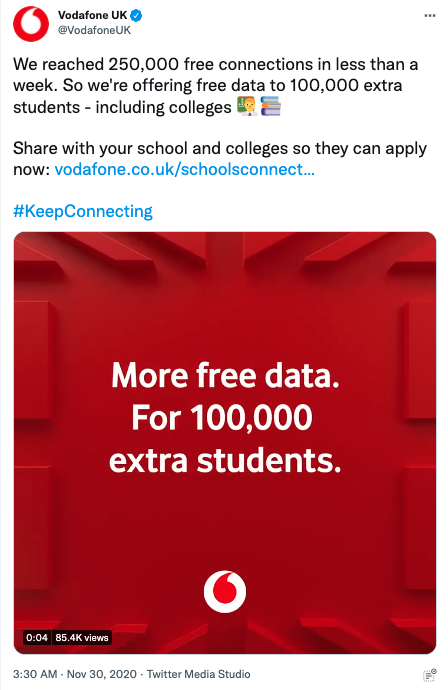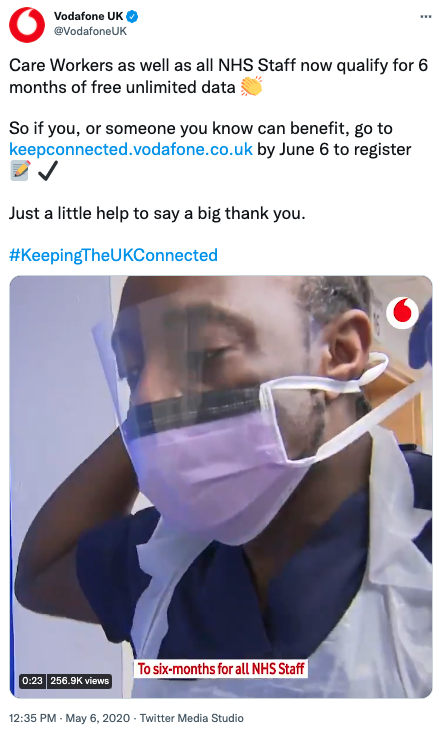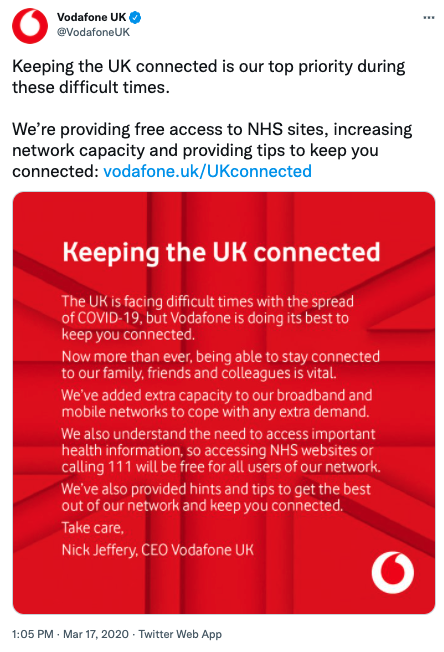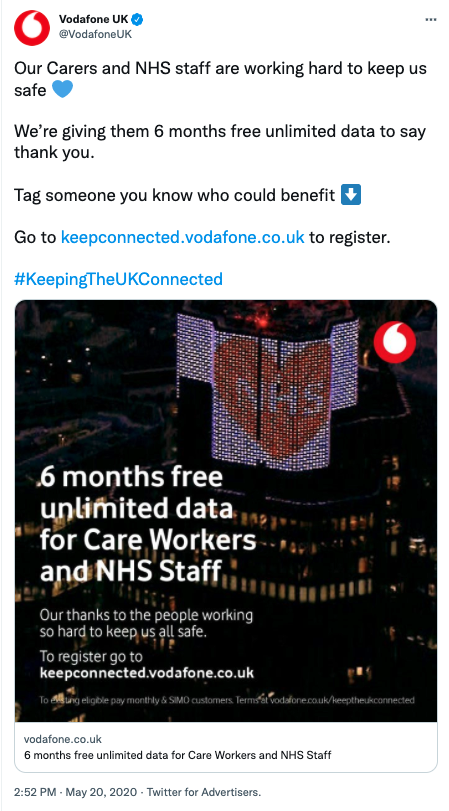 This shift in strategy was well received, and the impact of Vodafone's social listening was undeniable. Positive sentiment towards the company grew during the rollout of their NHS-centered campaign and soared when they expanded that campaign to include all care workers (80% positive sentiment during the expansion of the campaign). 
This campaign garnered larger industry attention as it earned Vodafone Marketing Week's Marketing Week Masters in the Media and Telecoms sector. Vodafone's unique solution to utilizing data to pivot its advertising allowed for broader success.  
The COVID-19 pandemic proved that the public conversation changes quickly and that companies need to have their ear to that conversation. Vodafone, with their partner Brandwatch, successfully reacted to the changing needs of their customers by simply listening.