Product News
Looking to the future of the Twitter developer platform
  By Twitter Dev    10 December 2020
  By Twitter Dev
  10 December 2020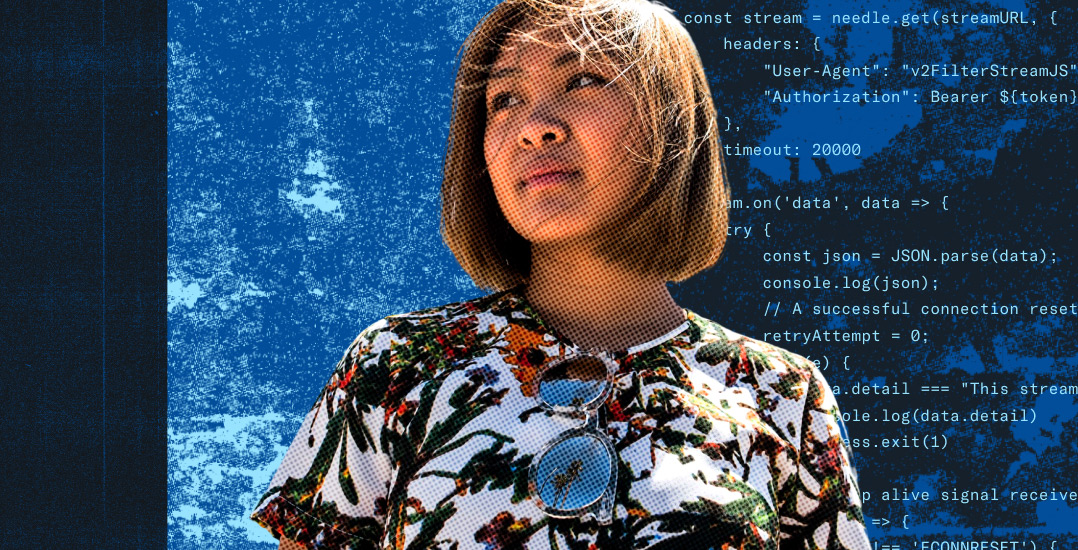 A lot has happened since we announced the new Twitter API v2, so we want to take a moment to share some of the impact you've had, the hard work we've seen from you, and what we're excited to bring you in the new year. 
As 2020 draws to a close, we're taking some time to pause and reflect on a year that has been strange and challenging in a myriad of ways. From our collective backdrop of remote work and online schooling amidst a global pandemic, to civic unrest, wildfires, and hurricanes in our communities, every definition of "normal" was turned upside down. 
Despite all of this, many of you still found time to join us in experimenting with and building on the new Twitter API v2. For that, we are deeply grateful Your feedback, support, and innovation continues to humble and motivate our teams to better serve you.
Looking back on developers who inspired us in 2020
We've dug deeply with many of you this year, meeting with and learning directly from our community of developers, academic researchers, and business partners. We've seen a lot of inspiring work, and we want to share some highlights of what you've built using the Twitter API:

Thousands of you are using Early Access to the Twitter API v2, and we're excited to share more highlights as we discover them. Launching something cool? Let us know by posting in the Twitter developer forum.

What to expect in 2021
Looking ahead, here's what we're most excited about bringing you next year: 
Solutions for academic researchers
Today, academic researchers are one of the largest groups of people using the Twitter API to study the public conversation to understand what's happening. Our goal is to support even more of this work, so we are building a solution tailored for research needs. For the last several weeks, select academics on our platform have helped us hone in on this by participating in a private beta of a new Academic Research product track.
Launching to GA early next year, the Academic Research product track will offer qualified academic researchers a significantly higher monthly Tweet volume cap for free, as well as endpoints and enhanced features to get more precise and complete data for analyzing the public conversation. 
We'll share more details about the academic research program in early 2021. In the meantime, you can leave open-ended feedback for research use cases, or connect with other researchers using the Twitter API in our developer forum.
Serving businesses of all types and sizes
As part of the launch of the new Twitter API v2, we also plan to streamline and simplify the experience for businesses using the API.  From small businesses to global enterprises, the Business product track, once available, will bring many of the benefits that have made our enterprise developer ecosystem so successful to the full range of businesses building on the Twitter API.
Early next year, we'll launch the first product track dedicated to business use cases that will allow businesses to apply for Elevated access to the new Twitter API v2. To learn more and nominate your business for the free beta program, you can sign up here. Ultimately, this beta program will influence details of the future Business product track.
A better Twitter API for everyone
Many thousands of developers have already started using the Twitter API v2 with Basic access in the Standard product track. We know that some developers will need greater levels of access before they can dig deeper into new endpoints — teachers, activists, and artists, to name a few. Before we're done building, we're planning to offer paths to Elevated access in the Standard product track. We also know you need more features to fully build, so we'll continue releasing updates to existing endpoints, adding support for new Twitter features (like the hide replies endpoint), and other new functionality like OAuth 2. 
If you haven't already, make sure you visit the new developer portal, or apply for a developer account to get started with the new Twitter API v2.
A few parting words for 2020
We're continuing to work diligently to introduce updates to existing v2 endpoints, access levels, and features that will complete the new Twitter API. If you have any questions or comments about the roadmap, please get in touch — know that we hear you, and we are paying close attention to your feedback. 
The new Twitter API will graduate from its current Early Access phase to GA when we are confident that all types of developers can successfully migrate to the new API, including having both the endpoints and access levels they need. We plan to provide plenty of migration time and resources to help when we do announce any upcoming deprecations. To get started with Early Access to the new Twitter API, check out our guide.
Your commitment and sense of community never fails to inspire our teams working on the Twitter API. We're so glad to have you join us in this journey, and can't wait to see what you build next.